Other Stories
Vietnam

Paveway LGB
Links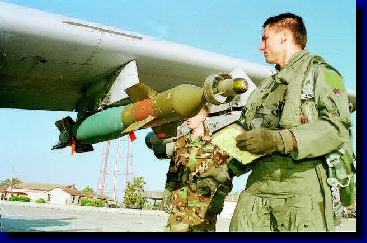 Laser Guided Bomb

In this Fall 1998 photograph, while on the Moody Air Force Base flightline, USAF Capt. Kevin Raybine checks out the training variant of the GBU-10 Paveway laser guided bomb loaded on his A-10A -- Photo by Shelby G. Spires
---
On this site:

The TI Paveway Program:

One of the most valued contributions to military history in the 20th Century will be the Laser Guided Bomb.
Developed by Texas Instruments in the 1960s, the Paveway series of LGBs help bring an end to the Vietnam War and were the media darlings of the Gulf War.
These links are the pages of a single story I did for Air & Space Smithsonian on the development of the Paveway Laser Guided Bomb.
---
All Text and Design Copyright (c) 2005 Shelby G. Spires. All rights reserved.