PJs Practice Medicine and Parachute Jumps
By Shelby G. Spires

AN AIRBASE IN THE ARABIAN GULF — U.S. Air Force Airman First Class Justin Shook adjusts the straps of his parachute harness. He can't get them just right. Parachute harness straps are something you want to get just right. There's not second guessing a parachute at 1,200 feet in the air.
"Here, just like this," Master Sgt. Mike Maltz tells him and grabs the harness twisting it and sliding the heavy fabric around Shook's torso. "It takes time — years — to get all this right," he says, then slaps young Shook on the back who then heads off to stow his gear in an HC-130. "That's why we all help each other."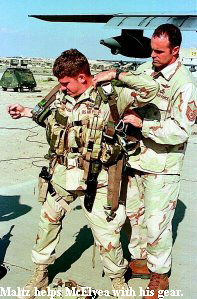 Maltz, 35, Shook, 27, and Airman First Class Benjamin McElyea, 21, are preparing to jump out of a HC-130. Stepping out of a moving aircraft 1,200 feet in the air may seem like a rather special day to some, but to these parajumpers it's just another series of training exercises to insure their readiness.
New to the theater of operations, Shook and McElyea have to make a certain number of jumps when they first arrive in country. "We have to do this every so often to make sure we can," Shook said. "It's a requirement."
The requirement of the PJs are vast when compared to other career fields within the Air Force. Not only are they required to be able to jump out of airplanes, repel down nylon cords, operate and maintain several different types of assault weapons and be able to fight an enemy in hand-to-hand combat, their also highly skilled medics.
Their sort of a Green Beret crossed with an ambulance driver.Maltz looks the part of a special operations commando. Just over six feet tall with a lantern jaw and a handshake that could crush rock, Maltz is the very definition of a guy who could fight his way in and out of a "hot" situation.
The abilities are not just on the surface. The master sergeant is lauded by his fellow rescue compatriots — officer and enlisted man alike. Maltz is the kind of guy "you want to take into a dark alley, not meet in a dark alley," his commander Maj. Jeff Braley said. "He's not a guy to be messed with."
That's how a PJ is supposed to be, though. A lean, mean fighting machine. A man who can blow through danger, retrieve whomever needs help and bring them back to safety. In the mean world of air rescue and special operations those who can't cut it are not wanted behind the front lines. There's no second place on the other side of the enemy's stronghold. Only success or failure.

On this fair day in the desert, the PJs are practicing for their successes. PJ Senior Airman Justin Ivie is perched atop a pick-up truck speaking into the handset of a radio. He's giving the pilot of an HC-130 valuable information about wind conditions on the ground near a drop zone the PJs are to hit. The aircraft makes a dry run, flying in low over the drop zone.
Satisfied as to the direction of the wind, the HC-130 pilot makes another lazy orbit and heads back to the zone.One after another the PJs leave the aircraft. It's a static line jump today, meaning all they have to do is step out the door of the HC-130 and a line pulls their chute's rip cord.
One by one the three chutes blossom, and the PJs steer through the winds as close to the drop zone as they can. Less than 30 seconds after stepping out of the aircraft, the three men are on the ground in a muted huff as they break their falls with a parachute landing fall.
Falling over on ones side is not very dignified, but the alternative would be sprained ankles and broken legs. They pull in their chutes, secure equipment, and hop in the back of a pick up truck. In turn, they are whisked back to the airbase to pack up and do it all over again in about two hours for a night drop.
"This is not a skill you want to go rusty," Maltz said. "You can never have too many jumps to your credit."